So there are a new set of image plates available now. They are made by
Winstonia
. It is a set of
20 image plates
for $15.99. They are very well made, stamp lovely, and have a lot of great holiday images. I used the Valentine plate to make today's mani. The pink is
Sinful Colors Cotton Candy
. The darker pink I stamped with is
Sinful Colors Truth or Dare
. Then I used
Sinful Colors Snow Me White and
Kleancolors Metallic Black
to stamp the other images.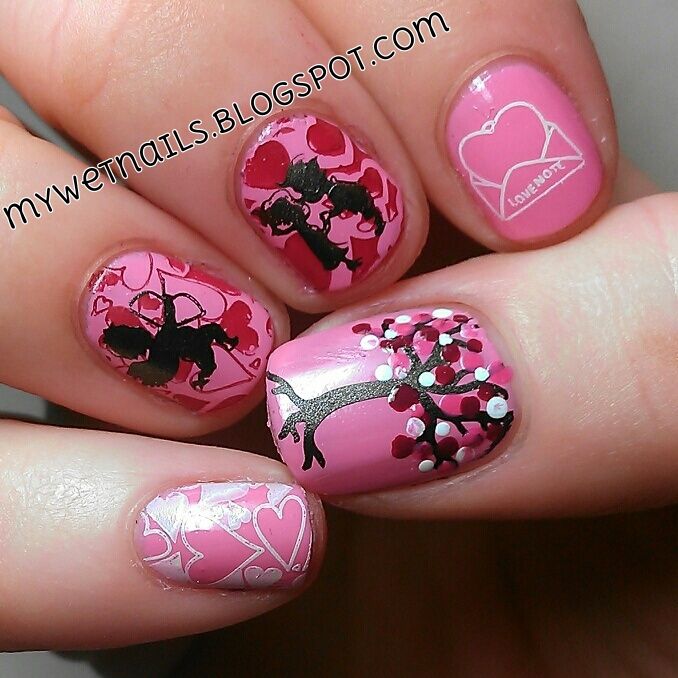 There are some bare spots in the stamping but I think that was user error. When I tested them on paper, the image stamped perfectly.
Here is the plate below on the left. They are the same size of other plates like Bundle Monster or MASH. They have backing so you don't cut yourself on sharp edges.
I used all the images on
W102
except the heart with wings. I noticed after I stamped the tree and put dots that the tree has little birdies sitting at the top. I've tested about half the plates and they all stamp great. There are a lot of new and unique images that I haven't seen on other plates.
I bought the set on my own and there was a 10% off code that I used. I don't know if it is still valid but if you are interested in the plates, go
here
and enter code PLATE10 for 10% off. I ordered straight from their website and shipping was fast. I paid for priority shipping and got it within a few days. I actually got them before my payment cleared through Paypal. lol They are also available on Amazon but I don't think the promo code works there.