This is a Press Sample that was sent to me but this is my honest opinion on the product.
I recently have gotten into "DIY" soak off gel polishes. My favorite brand so far is Sensationail by Nailene. I have today one of the colors from their new Liquid Metal collection, Going for the Rose Gold.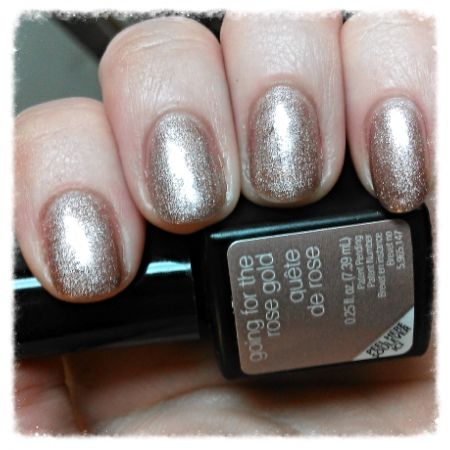 It was hard to get the true color so it does seem more lighter than it really is. It is in real life a rose gold. It is a beautiful color that has a foil finish. The color kind of reminds me of Orly Rage.
The formula was really easy to work with. Usually with these gels, it floods my cuticles and clean up is kind of a pain. But I had no problem with this. It could be I'm just used to applying them now. I really had no clean up to do at all. It was like buttah!
And here is a little nail art I did. I added gold glitter as an accent and stamped the skyline from the new Bundle Monster plates. I got inspired by my favorite pro nail artists from
Hey, Nice Nails!